Every land and site development project has to have a clean slate on which to start building. That's why one of the first steps to starting a new project means clearing away old development, such as existing buildings and structures. This takes more than simply a bulldozer – safe demolition requires an experienced team led by a knowledgeable demolition contractor.
At Giant Development, we have the experience, knowledge, and attention to detail necessary to ensure the demolition of existing structures is done safely, efficiently, and thoroughly.
Comprehensive Demolition Services in Chapel Hill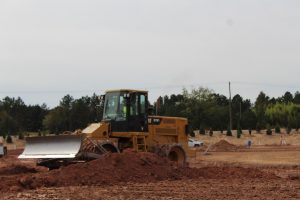 Since 2003, Giant Development, Inc. has been a part of both large and small site development projects in and around Chapel Hill. One of the many services we provide is comprehensive commercial and residential structure demolition. Our experience, combined with our dedication to service and quality workmanship, gives us the ability to lay out a plan with confidence that we will get the work done right while staying on schedule and within budget.
Our Chapel Hill Demolition Services Include:
In-depth site analysis to scan for asbestos and other hazardous materials to determine any additional safety regulations we may encounter when handling and disposing of them.
An experienced crew led by a knowledgeable, licensed contractor who can tackle all types of projects, both small and large-scale.
Using the right equipment to get the job done quickly and effectively, but also safely.
Precise, thorough demolition of any unneeded commercial, residential, and industrial buildings.
Removing all debris, including waste disposal and recycling.
Leaving you with property free of unwanted structural materials so you can move onto your next step.
Contact Giant Development for Demolition Contractors in Chapel Hill
Since 2004, we have worked with commercial and residential land developers, providing turn key contracting services to assist with all types of projects around the Triangle. If you are looking for a dedicated demolition team, Giant Development can help. Call us today at 919-754-1226 or fill out our online form to get started!