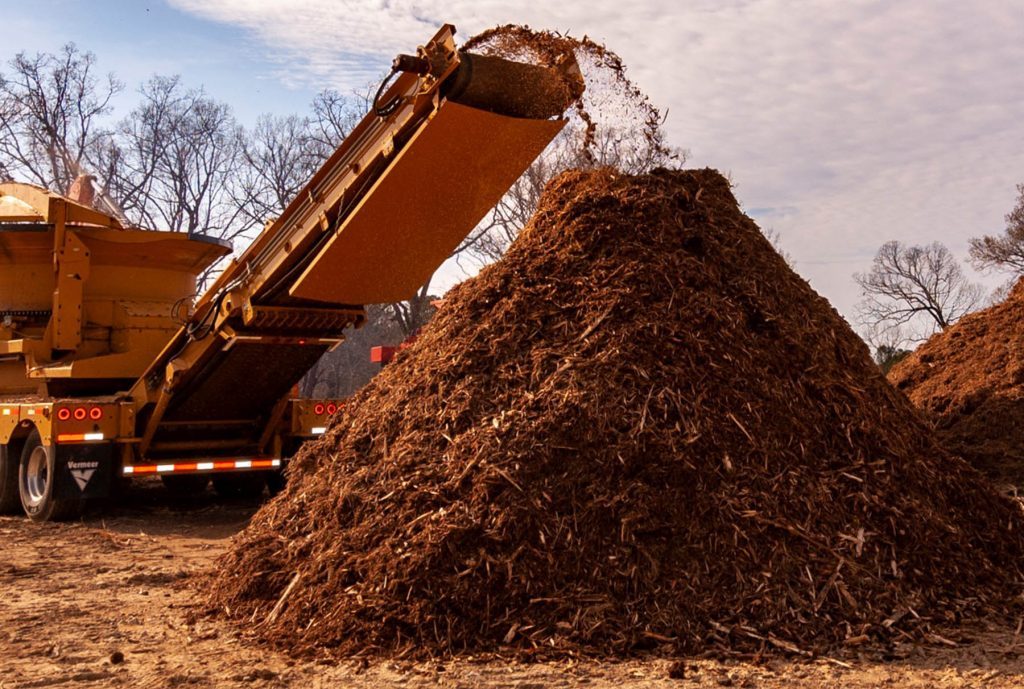 Giant Development provides turnkey development contracting services in Chapel Hill, including land clearing and forestry. If not done properly, by an experienced crew, these projects can affect soil stability and can damage and disrupt the ecosystem.  That's why, at Giant Development, we strive to minimize waste and improve the ground quality by mulching removed trees.
Benefits of Mulching after Tree Removal
Because our land clearing projects often span thousands of acres, this creates literal tons of timber, brush, and organic waste. Removing these trees and vegetation removes the anchoring effect the roots have that hold the dirt and soil, increasing the likelihood of erosion, flooding, and runoff.
By mulching those trees and spreading it across the landscaping, we can reduce soil erosion. Mulch is often an attractive part of landscaping, but it also reduces water evaporation, erosion, and water runoff.  By repurposing it into mulch, it offers the following benefits:
Reduces and prevents erosion
Restores essential nutrients back into the ground
Reduces weed growth
Prevents environmental harm caused by burning trees and brush
Holds moisture in the soil and improves soil productivity
Producing Mulch Efficiently
We have the necessary machinery on hand to quickly process trees and plant debris into mulch, even stumps. Our tub grinder quickly runs through tons of trees, turning timber into nutrient-rich, attractive wood chips and mulch. Anything we can't process, such as dead or damaged wood that would be harmful to the landscape is recycled or repurposed into firewood.
Contact Us for Mulching Services in Chapel Hill
If you need an eco-friendly alternative to clearing your land, we can help! Our crew can remove trees and brush, process them, and distribute mulch around your property quickly and at an affordable price. Contact us today at (919) 754-1226 to learn more.