Residential Site Grading
This industry comprises establishments primarily engaged in site preparation activitie

s, such as excavating and grading,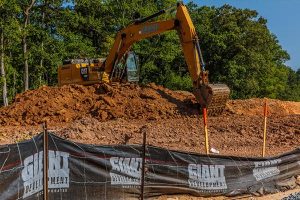 demolition of buildings and other structures, earthmoving and land clearing for all types of sites (e.g., building, non-building, mining) are included in this industry.

It is often done using heavy machinery, such as track dozers, off-road dump trucks, and excavators 

to roughly prepare an area. Then using a f

ine grade dozer for a smooth finish. 

Giant Development utilizes state-of-the-art equipment and experienced operators. Our grading services handle a full range of earthmoving projects to prepare residential development sites for the construction of buildings, roads, parking lots, and many other uses.
Water and Sewer System Construction in Chapel Hill
This industry covers general and special trade contractors primarily engaged in the construction of water and sewer mains, pipelines, and mainline connection to future private homeowner systems.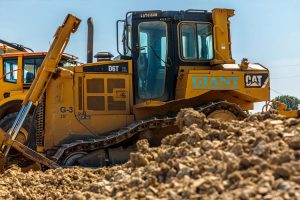 Water and sewer construction is heavily influenced by growth or decline in the construction industry. Since new homes require a water supply and sewage treatment facilities, developers usually pay for water and sewer systems for new subdivisions. Hiring utility subcontractors to install the network of infrastructure and appurtenances to service the site as per the approved plans reviewed by the local, state, and sometimes federal authorities, for compliance with typical engineering practices, and prior to the systems making a connection to the POWWTS (Public Owned Waste Water Treatment System).

Specialized contractors licensed in their respective states make these connections and install the network of utilities to accomplish this for their respective owner/developer and in turn comply with the municipal oversight.
Contact Us When You Need Site Grading and Utility Services in Chapel Hill
When you need site grading and utility services done quickly and efficiently on your work site, reach out to Giant Development in Raleigh, Apex, Chapel Hill, Durham, Holly Springs, Wake Forest, or Willow Springs. To get a quote or schedule a consultation, call us at 919-754-1226 or fill out our contact form below.