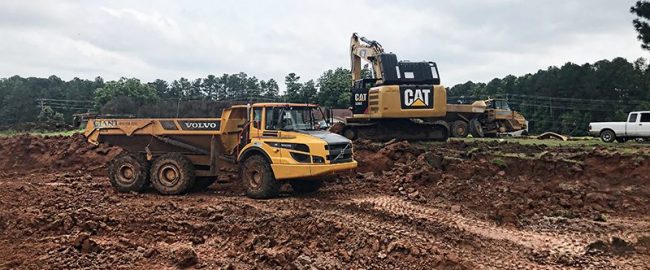 At Giant Development, site developers come to us because they know we provide comprehensive contracting services for land development in Chapel Hill. With a focus on service and quality, we do everything possible to keep projects on schedule and within budget. 
Many of our site development projects include  excavation, land clearing, and demolition to get the land ready for construction and make sure the space is level and stable. However, this process of removing trees and disrupting the soil can lead to serious, costly damage if care isn't taken to prevent it. 
Site development can cause significant soil erosion, which can lead to property damage and pollution of the waterways. Even when a project hasn't impacted the waterway, the waterway can impact the land. Over time, running water from a river or stream can cause natural erosion, especially during floods and high water times.  This can cause water to encroach on developed land and lead to structural integrity problems for both public and private property.
Understanding Streambank Stabilization and Restoration
Streambank stabilization and restoration prevent or stop erosion from causing damage. Giant Development understands how to improve these streambanks that have worn away over time.  
In some cases, we are able to use natural plants, greenery, and grasses to stabilize the soil and hold it in place. In other situations, we are able to engineer and build barriers to stop erosion or can create bioengineering systems to slow the process. 
These solutions keep soil in place, which is better for the environment and prevents property loss and damage.
Causes of Streambank Instability
Land development is not the only cause for erosion and streambank instability in the area. Additional factors include:
Channel modifications
Effluent water transport
Irrigation water transport
Excessive water force exertion
Flooding
Animal Activities
Wildfires
Removal of vegetation
Land changes
Natural disasters
Streambank Stabilization and Restoration Services in Chapel Hill
We work with experts who have in-depth knowledge related to preventing and reducing soil loss. We work with them to stabilize and restore streambanks to make sure we are taking the right measures at a minimal cost to our clients. Our services include:
Educating client on stream dynamics
Earthwork and soil preparation
Managing streamside vegetation
Weed control
Conducting a comprehensive analysis of the stream structure
Identifying the most effective streambank protection method
Designing an effective restoration solution
Implementation of system and sediment control measures
Monitoring and management of system and subsequent reporting
If applicable, design and implementation of in-stream solution to improve habitat value
Grading measures
Stabilization of channel flow
Maintenance to prevent erosive water flow
We will help you determine the best course of action as part of a comprehensive solution that will last without going over your budget.
Contact Us for Streambank Stabilization and Restoration in Chapel Hill
Whether you want to prevent erosion or restore an existing issue in Chapel Hill, Giant Development can help! Contact our team today to schedule your consultation by calling 919-754-1226 or by filling out our contact form.