Ensuring street repairs in Chapel Hill are done quickly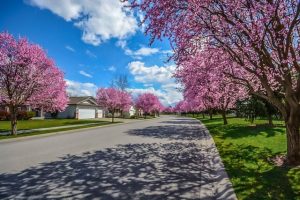 and effectively is one of the most important responsibilities of the city. After all, our roads are widely used and necessary aspects of our community's infrastructure, especially as more people live and work in Chapel Hill. At Giant Development, Inc. we work with the North Carolina Department of Transportation and city management teams to provide the reliable street repair and patching services needed to keep roads safe and attractive.
Chapel Hill Street Repair Saves Money
Potholes and large, buckled sections of the street are not just unsightly, they are dangerous to drivers, bicyclists, and pedestrians and can lead to expensive costs for the city. If a driver hits a pothole and it causes damage, the city can be held liable for the repair costs. With hundreds of thousands of vehicles traveling Chapel Hill's roads everyday, the amount of vehicle repairs necessary can be catastrophic for the city's budget. In the event that a bicyclist hits a pothole and is injured, or a pothole causes a collision, the city can even be named in a lawsuit.
Even if no one reports vehicle damage, timely street repair and patching is still cost-effective. Once a pothole or crack begins forming, that damage spreads. If not taken cared of quickly, large sections of the road may need complete pavement removal and replacement, inconveniencing commuters and drivers, and costing the city millions of dollars.
Our Efficient, Reliable Street Patching Process
If pavement milling is not required, and only minor potholes need to be repaired, we can provide quick street patching that provides drivers with a smooth, safe surface. First, we thoroughly clean the area and apply a tack coat to ensure the new material adheres to the surface. We then use an asphalt or patching mix to fill in the pothole completely, compacting the mixture to firmly push it into spaces. We then level the patch or repair, creating a firm seal and flat, safe surface.
Experienced Chapel Hill Paving Services
Giant Development has been working with land developers and city management teams since 2003 to provide expert asphalt and curbing services. In addition to providing street repairs in Chapel Hill, we also do full paving removal and replacement, road widening, and new road paving for subdivision developments. If you're seeking asphalt patching and paving services, contact us today at 919-754-1226 or fill out our convenient online contact form.