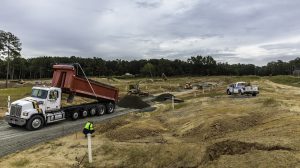 If you are building a new subdivision in Chapel Hill, having smooth, safe roads is a sign of a well-maintained, high-quality neighborhood. No matter how new or attractive the houses are, if the roads and sidewalks are in poor condition, you won't make the first impression necessary to drive offers. 
For existing subdivisions, making sure your roads stay in good condition is important to safety and aesthetics. Good roads maintain property values while also creating safe, comfortable surfaces to drive, walk, and bicycle on. 
At Giant Development, we are a trusted company who specializes in subdivision paving services. We work on site development projects across Chapel Hill and are a trusted business who is known for staying on schedule, within budget, while providing excellent work. Our paving and asphalt services include: 
How Our Chapel Hill Subdivision Paving Process Works
We know you want your roads to maintain their good condition for as long as possible. To achieve excellent results that last, we refuse to cut corners in our paving process.  We begin with laying the gravel base that rests under the asphalt. Whether there needs to be new gravel put down or an existing gravel base needs to be replaced, we always make sure it is graded and pitched so water can drain properly before compacting it before laying down the asphalt or concrete.
Once we have the gravel base prepared, we pour the asphalt or concrete. Our paving machine is an effective, efficient machine, able to roll and compact fresh asphalt into a smooth, even surface. When pouring concrete, we take the proper care that it's perfectly level before it sets.
Sealcoating Your Chapel Hill Subdivision
Oil, water, UV rays, extreme temperatures, heavy traffic – all of these things break down asphalt and concrete over time, leading to cracks, potholes, and other damage. Our sealcoating process involves laying a protective layer to your asphalt, preventing it from drying out and extending its life. Plus, it gives it an improved appearance, too! 
Asphalt Repaving and Repair
Cracks and potholes do happen over time. Fortunately, small flaws are easy to repair, but if they aren't treated, they can become dangerous problems that are expensive to fix.  
To keep the roads and sidewalks in your Chapel Hill subdivision safe and prevent damage to vehicles, we offer asphalt and concrete repair and repaving:
Asphalt Removal and Replacement
For severe wear and damage, we can remove old asphalt and replace it with a fresh, new surface. We will also look closely at the surrounding area for possible water drainage issues and maintain the gravel base if needed to prevent any future problems that could shorten the lifespan of the new asphalt.   
Surface Patching
For simple cracks or small potholes, we are able to apply a patch to the area. This is a quick, inexpensive task that can extend the life of your pavement and prevent expensive repairs sooner. 
How we do it is simple: We clean any debris and packed dirt away from the crack or pothole, then apply a tack coat to make sure the patch sticks. After that, we pour fresh asphalt or a patch mix, making sure it's tightly packed in to prevent any air or moisture from getting in. The end result is a smooth finish that is safer to drive and walk on. 
Pavement Upgrades
If your subdivision is growing, it may be necessary to add safety or space upgrades to your subdivisions roads.  We can install speed bumps to slow down cars and trucks that speed down the street and add or widen sidewalks to improve the safety of children and pedestrians in your neighborhood. If traffic has greatly increased, we can even widen the roads in areas to reduce traffic delays. 
Contact Us for Subdivision Paving in Chapel Hill 
For efficient, reliable paving services, contact Giant Development. Since 2004, we've provided Chapel Hill and the surrounding area with comprehensive site development services, including paving roads and laying sidewalks. Call us today at 919-754-1226 to learn more!