As part of our comprehensive site development contracting services, we also offer complete concrete, stone, and asphalt services. Our locally owned and operated business has served Durham for over a decade, providing quality work to improve the quality of roads, streets, and sidewalks around the area. 
Large Asphalt and Paving Services in Durham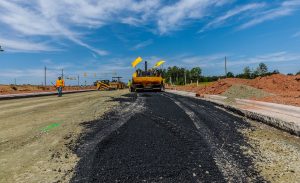 We have the experience and skill to efficiently tackle large paving tasks for both private commercial companies and public projects for the Department of Transportation and the city of Durham. Projects include: 
Widening roads 
Paving public roads and streets
Resurfacing 
Curb, gutter, and sidewalks
Paving in new subdivisions and residential developments
Facility projects
Small Paving and Concrete Services in Durham
In addition to working on large city contracts and working with site development companies to lay asphalt and curbs for new streets, we also handle small projects too, able to knock them out quickly without sacrificing quality work. Small projects include:
Sidewalks and walkways
Paving and repairing parking lots
Street repair and patching concrete and asphalt 
Building and pouring accessibility ramps
Contact Giant Development for Commercial Asphalt Paving in Durham
For over a decade, we have worked with land developers and city departments, providing high-quality paving and concrete services that meet both scheduling deadlines and tight budgets. We are large enough to have the resources and experience necessary to do any size task, and we combine that with our integrity, attention to detail, and desire to make sure every task is done right.

Contact us today at 919-754-1226 to learn more.