One of the most important parts of residential land development is ensuring that there are smooth, high-quality roads and safe sidewalks. Fresh, new asphalt, clean line striping, and smooth sidewalks greet potential buyers, making an excellent first impression.
At Giant Development, we offer comprehensive subdivision paving services in Durham that will keep your project on schedule and within budget without sacrificing quality. We offer the following paving and asphalt services:
Our Durham Subdivision Paving Process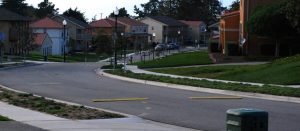 In order to get the best possible results, our experienced crew follows a thorough paving process. We start by preparing the gravel base that lays under the asphalt. Whether we lay new gravel or replace and improve an existing base, we make sure it is graded and pitched for proper water drainage before compacting it to prepare for laying asphalt or concrete.
Once the base is prepared, we install the asphalt or concrete over it. We have an efficient, effective paving machine to roll and compact fresh asphalt, while we pour concrete and ensure it's properly level so it can set.
Sealcoating and Protecting Your Subdivision Roads
Sealcoating adds a protective layer to your asphalt by providing resistance to oil, water, and sun oxidation. This slows down the degradation process, extends its lifespan, and keeps your asphalt looking attractive for a longer period of time!
Asphalt Repaving and Repair in Durham
Over time, cracks can form in asphalt and concrete, which can then lead to buckling and crumbling areas, which are both unsightly and safety hazards. If you're expanding on an existing subdivision or you want to maintain existing roads and sidewalks, we offer repair and repaving for concrete and asphalt including the following services:
Asphalt Removal and Replacement
If the existing asphalt is too damaged to repair, we can remove damage all the way to the base and lay fresh asphalt down. We will also inspect the surrounding area for any water drainage concerns and improve the base as needed to prevent any potential problems that will cause premature wear and degradation.
Surface Patching
For small areas of damage, patching is an inexpensive, quicker alternative to removal and replacement. Our experienced team cleans the damaged area of any debris, then applies a tack coat to ensure proper adhesion before laying fresh asphalt or patching mix. The end result is a smooth finish that is safer to drive and walk on.
Pavement Upgrades
If the area is growing or changing, upgrades to your subdivisions roads may be needed. We install speed bumps to slow down traffic and sidewalks to improve the safety of the neighborhood. We can also take on road widening projects that decrease the traffic of the area.
Contact Us for Subdivision Paving in Durham
If you need quality paving services that will help you keep your project on schedule and within budget, contact the experienced team at Giant Development! Since 2003, we've provided Durham and the surrounding area with comprehensive site development services. Call us today at 919-754-1226 to learn more!