Holly Springs Demolition Contractors
You need a clean, clear area before you can start your next site development project, and this often requires removing old structures and buildings. This isn't something that can be taken lightly. In order to get the task done safely and quickly, you need an experienced demolition contractor and team to engage taking down and removing the infrastructure.
Demolition Services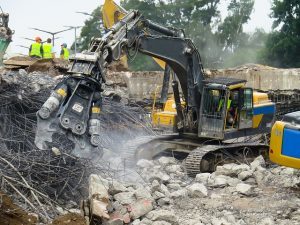 At Giant Demolition, we bring nearly 20 years of experience to land development contracting services, including commercial and residential structure demolition. Our knowledge and experience spans all types of commercial and residential projects both small and large, which means we've faced all types of issues, obstacles, and setbacks.
When we sit down with a customer to discuss a project, including the scope of work needed, deadline, and budget, we can offer a clear, knowledgeable outline of our side of the task. This, combined with our integrity and dedication to excellent service means that we give realistic deadlines and budgets, and ensure we meet them while going beyond our client's expectations to get the site ready for the next step in the project.
Our Holly Springs Demolition Service Includes:
Site analysis to see if there is asbestos and other hazardous materials. This allows us to take the proper care and meet all safety regulations when handling and disposing of them.
Experienced, licensed demolition contractors and a team who are able to work on all types of demolition projects.
Using safe equipment chosen for quality and efficiency to get the job done right.
Precise, comprehensive demolition of all structures and buildings on the property, including old industrial buildings.
Comprehensive site cleanup, including environmentally friendly waste disposal and recycling
Land cleared of any unnecessary structural materials.
Contact Giant Development for Demolition Contractors in Holly Springs
We've worked on land development projects in Holly Springs since 2004, providing turnkey development contracting services. If you need a dedicated demolition crew to complete your next project, Giant Development can help. Call us today at 919-754-1226 or fill out our online form to get started!