In addition to demolition and land clearing excavation is often a necessary step in site development. This is to make sure the land is stable and level before building and requires an experienced, knowledgeable excavation team. At Giant Development, we have the team and equipment necessary to the job right, finishing within deadlines and budget parameters without cutting corners. 
An Experienced Excavation Team in Holly Springs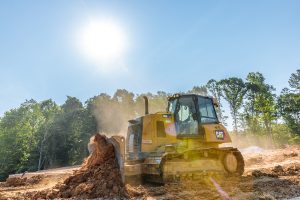 Excavating land requires heavy equipment like bulldozers and excavators to move and relocate earth and rock. Our equipment operators are licensed and insured and have the experience necessary to not only do the job correctly, but to ensure it's done safely and efficiently, too.
Since 2003, we have completed projects of every size and scope for projects including:
Site Preparation
Land Assessment
Development
Leveling and Stabilizing
Contact Us for Land Excavation in Holly Springs
As part of our turnkey site development services, you can rely on our excavation skills to achieve the stable surface you need to begin building. To get a quote or schedule a consultation, call us at 919-754-1226 or fill out our contact form.