Land Clearing in Holly Springs
Before you can start on construction, you need a lot that is clear and stable for constructing a foundation. Lots that have previously been built upon often need to be cleared of existing structures and require extensive demolition services, while undeveloped land has to be clear of vegetation and trees.
When you need trees removed, it's important to minimize damage to the area and preserve the land as much as possible. That's why you need a land development company who is experienced in forestry services and can quickly and safely remove trees, brush, and other vegetation in a way that is environmentally friendly.
Our Land Clearing Services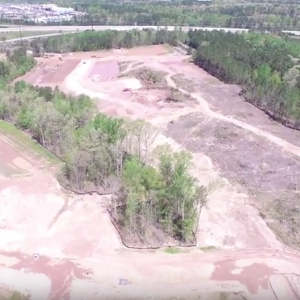 Giant Development provides reliable forestry and land clearing services for your Holly Springs development project. Since 2003, we've worked on a multitude of land clearing projects, giving us the knowledge, training, equipment, and most importantly, the diligence, necessary to prepare a site that is ready for the next step, completed on time and within the agreed-upon budget. We also do everything we can to clear the vegetation that allows us to reuse and recycle the materials and preserve the soil. Not only do we want to the right thing environmentally, but we also want to preserve the integrity of the land itself.
Our services include:
Brush removal: Underbrush, bushes, and other growth can quickly spread, leading to frustrating landscaping issues and raising the risk of wildfire.
Tree removal: We can remove both small and large trees from your land.
Environmental advice: We can work with you to create a plan that preserves as many of the trees on your property as possible without affecting your land development.
Soil structure preservation: The integrity of your soil structure is essential in construction ,so we do everything possible to protect the soil structure preservation, including processing trees and vegetation in place.
Holly Springs Forestry Solutions
In addition to land clearing, we offer mulching and logging services in and around Holly Springs. We have equipment and methods to get rid of timber quickly and in a way that's eco-friendly. Even property that has been hit with major storm damage can be restored with our solutions, including:
Mulching: Stumps, dead trees, and branches are processed into valuable mulch with our horizontal tub grinder
Timber: Quality timber is removed and sent to a lumber mill or yard for recycling or use in home construction.
Firewood: We also recover and process firewood from the trees we remove.
Contact Giant Development for Forestry and Land Clearing in Holly Springs
With our team of experienced, highly-trained experts, we offer accuracy, precision, and efficiency in our land clearing to ensure you can move on to the next step of your development project without delay. Contact us today at 919-754-1226 or fill out our contact form.