Holly Springs Commercial Site Grading
After the demolition or land clearing phases are complete, it's important for the ground surface to be level and stable. This gives you the proper surface for building and creates a reliable foundations.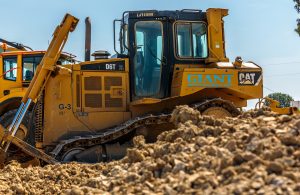 Without proper site grading, you may run into structural flaws and an unstable building foundation, all of which are costly and time consuming to fix, in addition to being dangerous. Site grading is the technique used to adjust the slope and elevation of soil to level out the ground. We can also use this to create a slope for improving water drainage. 
To perform this task, we use heavy machinery such as bulldozers or excavators to do the majority of the work. After doing much of the heavy earth moving, we use a fine grade dozer to ensure a smooth, even finish.
This is such a crucial step to your overall land development project in Holly Springs, that you do not want to trust this to just anyone. You need to work with a contractor who brings experience, knowledge, and dedication to this job. At Giant Development, we have a large inventory of quality, powerful equipment and machinery to get the job done efficiently, but more important, we have a team of experienced, licensed operators. They will do the job right, making sure your property is ready for the next step of building, paving, or other use. 
Contact Giant Development for Site Grading in Holly Springs
For a stable, even site you can confidently begin construction on contact our team at Giant Development. Give us a call at 919-754-1226 to get started with an estimate today!