Residents and business owners in Holly Springs depend on roads and sidewalks that are in good condition. It's more than keeping the city looking it's best, it also reduces injuries, accidents, and claims for property damage. If potholes, cracks, and worn spots begin forming on the roads, taking the initiative to fix the problem immediately often stops a small problem from becoming a serious issue. 
Giant Development offers reliable, long-lasting street repairs and asphalt patching so roads and streets in Holly Springs are safe and smooth.
Why Choose Our Street Repair Services in Holly Springs?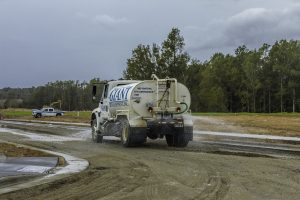 Worn out asphalt is an eyesore that makes nice areas look rundown. More importantly than impacting property value, roads needing repair can damage vehicles and lead to accidents. This is not only bad news for residents, the city can be held liable for these accidents. For example, if a resident blows a tire because of hitting a pothole, the city may have to pay for that damage. It doesn't take long before residents' claims can make a big impact on the city's budget.
Additionally, repairing asphalt as soon as a problem starts saves on long-term maintenance costs. If left ignored, layers of asphalt can degrade and break down until it's impossible to do a patch. When this happens, the only option is pavement milling and replacing the road surface altogether.  
Street Repair and Patching Services in Apex
We work with city and state governments management teams as well as private land developers to provide street and sidewalk repair services. With quality equipment and an experienced team, we are able to restore your streets quickly and efficiently.  
For small cracks and potholes, we can offer pavement patching which allows us to fix the repair quickly with minimal impact on traffic. To add a patch,   we clean the area of any debris and packed down dirt and apply a tack coat that makes the new asphalt adhere and blend into the undamaged pavement. Then, we finish by adding asphalt or a patching compound, pressing it into the space to push out air and moisture in any crevices. Once that's complete, we level it out to make a firm seal. 
In addition to repairs, we add sealcoating to extend the life of your asphalt by blocking out water, oil, and UV rays that break it down over time.  
Contact Giant Development for Street Repairs in Holly Springs
Giant Development offers all type of asphalt and curb installation services in Holly Springs and works with  both land development companies and city management teams. From repairs and replacement to laying down completely new roads, sidewalks, and curbs, we provide quality work you can depend on. Contact us today at 919-754-1226 or fill out our convenient online contact form to learn more about our services.