When you're building a new Holly Springs subdivision or housing development, you want to attract potential home buyers. To do this, you not only need new, lovely homes, you also need smooth, freshly laid roads and freshly poured sidewalks to show off the neighborhood and make a great first impression.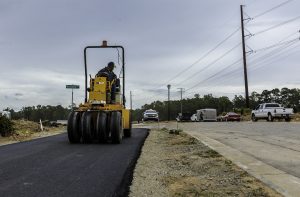 At Giant Development, our services include subdivision paving for new and existing neighborhoods. Our experience and dedication to service ensure your site development project stays on schedule and within budget without sacrificing the quality of our work. Our paving and asphalt services include:
How Our Subdivision Paving Process Works
We refuse to cut corners to meet deadlines or lower cost and make sure we follow all the necessary steps to ensure safe, durable roads that hold up and look great for as long as possible.
We start the process by putting down new gravel or replacing an existing gravel base. This is necessary to grade and pitch the road so water can drain, then we compact the gravel to lay the asphalt.
Next, we use our paving machine to roll and compact asphalt into an even layer on the road. When pouring concrete, we strive to make sure it's properly level before it sets.
Sealcoating Your Holly Springs Subdivision
Asphalt breaks down over time, especially when exposed to oil, water, and sun, which leads to unsightly and dangerous cracks and potholes. By laying a protective sealcoat that blocks the oil, water, and UV rays, the asphalt will last longer and look nicer.
Asphalt Repaving and Repair
When cracks do form in asphalt, they're generally easy and quick to repair. If they aren't fixed, the damage spreads to buckled or crumbled areas or potholes. This kind of damage is not only unattractive, it's dangerous to drivers and pedestrians.
To keep the roads and sidewalks in your subdivision safe and prevent accidents and damage to your vehicle, we offer repair and repaving for concrete and asphalt including the following services:
Asphalt Removal and Replacement
If the existing asphalt has worn down or has excessive cracks and potholes, we can remove the damaged area and lay fresh asphalt. We will also look closely at the surrounding area for possible water drainage issues and redo the gravel base if it's necessary to prevent any future concerns that could shorten the lifespan of the new asphalt.
Surface Patching
For simple cracks or small potholes, we can add a quick, inexpensive patch to the area. The process is simple: We clear out any debris and packed dirt away from the damaged area, then we apply a tack coat to make sure the patch sticks. After that, we add the patch mix or asphalt, taking care to pack it in thoroughly to stop any air or moisture from getting in. The end result is a smooth finish stops damage from spreading.
Pavement Upgrades
If your subdivision is growing, you may need to make safety or space upgrades to the roads in your subdivision. We can install speed bumps to slow down traffic and add sidewalks to improve pedestrian safety of the neighborhood. If traffic has greatly increased, we can even widen the roads in areas to decrease traffic delays.
Contact Us for Subdivision Paving in Holly Springs
For efficient, reliable paving services, contact Giant Development. Since 2004, we've provided Holly Springs and the surrounding area with comprehensive site development services, including paving roads and laying sidewalks. Call us today at 919-754-1226 to learn more!