Water and Sewer Construction in Holly Springs
Water and sewer infrastructure are necessary for nearly every site development plan, whether it's a housing development, hospital, or industrial park. Designing complex water and sewer plans have to include water and sewer mains, connections to individual properties or businesses, and a maze of pipes running water to and from the building.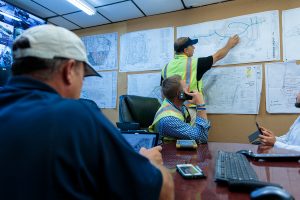 Partnering with an experienced contracting company with in-depth knowledge of water and sewer systems will save you time, money, and ensure the work is done correctly. You need to ensure your water and sewer system complies with local and federal regulations and provides reliable, safe water flow, and you also need to make sure your deadlines and budgets are met. Giant Development is the company who can meet and exceed your expectations.
Our Holly Springs Utility Services
We offer turnkey site development contracting for site development projects in and around Holly Springs, including designing and building water and sewer infrastructure. We work with utility subcontractors to include:
Commercial and residential water pipeline installation
Sewer pipeline installation
Drainage system installation
Inflow/infiltration
Grouting
Manholes installation
Pump station installation
Bypass pumping installation
Horizontal directional drilling
Microtunneling
Tunneling
Pipe rehabilitation / sewer relining
We make sure all plans are reviewed and approved for compliance by the appropriate organizations and agencies to prevent lengthy delays that can cost thousands of dollars.
Contact Giant Development for Water and Sewer System Infrastructure in Holly Springs
Giant Development constructs complex water and sewer systems that will pass inspection and ensure safe water flows to and from your property. Reach out to us today at 919-754-1226 or fill out our convenient contact form for more information.