Storm water management has come a long way in recent years. By using new technology and equipment, neighborhoods and businesses can effectively reduce infrastructure costs while improving the water quality of lakes, streams, and oceans. Many local governments, like Raleigh, have also increased regulations and enforcement of erosion and storm water control, highlighting the need for quality services.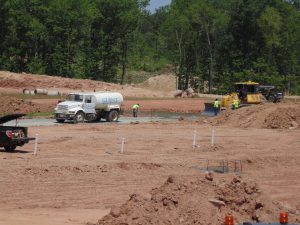 At Giant Development, we offer commercial turnkey site development, including control of your stormwater. We staff our team with highly qualified individuals who can provide both guidance and technical assistance with your commercial project.
Some of our services include:
Grading and drainage
Detention pond creation, renovation, or maintenance
Rainwater reclamation
Sediment and erosion control
Streambank remediation
Pond or lake clarification
And more!
We understand complex regulatory processes that govern stormwater and erosion tension. We strive to stay up-to-date with the latest North Carolina regulations to better serve our customers. Let us evaluate your BMP and create a comprehensive maintenance plan that allows you to manage your stormwater efficiently. For more information on our erosion control or storm water retention services, contact us.