After clearing and preparing a piece of land for construction, the development of streets, sidewalks, a parking lot, or all of the above must then happen. When any individual arrives at a subdivision, these elements are the first thing they see. Nice, maintained pavement signals a put together, professional community or business, while cracked pavement with a worn paint job signals the opposite. In other words, your pavement alone generates an impression of your company or business, so make sure the first impression is a good one.
At Giant Development, we offer unparalleled subdivision paving services in the quickest manner possible, all for an unbeatable price. With standout practices and high standards of integrity and honesty, we have been in the subdivision paving business for years. Whether you need pavement laid for a new subdivision, fixes made to deteriorating pavement, or the widening of a street, our team of dedicated professionals can certainly get the job done. Our subdivision paving services include the following and more:
Sidewalk installation
Pavement resurfacing
Material supply – asphalt, concrete, and more
Driveway paving
Road construction
Sealcoating
Road widening services
Speed bump installation
Clear streets with boom tractor
Milling
Subdivision Paving and Development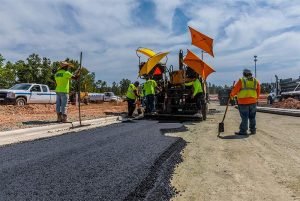 At Giant Development, we ensure that every job is completed to the best of our ability. This means that we take all possible steps towards completing the highest-quality, most efficient job, using the most efficient machines and laborers.
What Does Our Subdivision Paving Process Involve?
We begin the subdivision paving process with a base preparation. The gravel (or base) underneath the pavement must be prepped to best accommodate the pavement. We provide gravel, if needed, or replace a base that can be made better. We then grade and pitch the base for proper water drainage, and finally compact it for the asphalt or concrete installation.
After the base is thoroughly prepared, we install the asphalt or concrete on top of it. Asphalt is installed using a paving machine and then rolled and compacted, while concrete is poured onto the pavement, leveled, finished, and then allowed time to set.
Our paving services ensure that you will get a thorough, top-notch paving job for an affordable price.
Sealcoating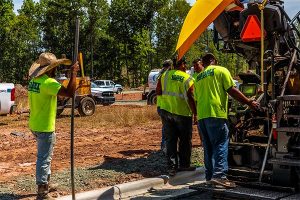 Adding a sealcoat to asphalt is an effective and simple way to extend the lifespan of pavement and provide an additional layer of protection to help prevent damage. Sealcoating offers numerous benefits, such as the following:
Improving visual aesthetics
Provides resistance against harmful elements like sun oxidation, water, and oils
Extending overall lifespan of pavement
Slows down the degradation process
After installing your pavement, our team members provide exceptional sealcoating services to protect your new investment and prolong any pavement maintenance services. Since sealcoating is an essential part of maintaining your pavement, we ensure that the job is thoroughly done in the most effective manner.
Repaving Services
Like any tangible object, pavement deteriorates overtime, meaning maintenance is inevitable every so often. Asphalt may become cracked or damaged, or a parking lot must simply be refreshed to improve the overall aesthetics of a subdivision. Maintaining asphalt or concrete surfaces can be pricy, but fortunately, we perform the following repaving services at a reasonable price in the most timely and professional way possible:
Asphalt Removal and Replacement. Because of sun oxidation and the frequent use of asphalt surfaces, asphalt removal and replacement is the most common repair performed. Our services offer the complete removal of the damaged area, from the base to the asphalt itself, and the replacement of this area with new and improved materials. By inspecting the surrounding areas, water drainage, base conditions, and other small aspects, we ensure that the job is done to last, eliminating any potential problems that can cause distress or damage to happen prematurely.
Surface Patching. Rather than removing and replacing asphalt, patching a cracked or damaged surface is an alternative that our team can perform. Since surface patching is a cheaper procedure, it does not last as long as removal and replacement and may create cracks bigger than the original one over time. However, it is still a highly effective way to repair damaged pavement.
Surface patching begins with preparing the site by thoroughly cleaning it and applying a tack coat to help the new asphalt cling and camouflage as much as possible into the existing asphalt. Then, our team fills the damaged area with either asphalt or a patching mix and compacts it. The depth of the repair will vary depending on the severity of the flawed surface.
Pavement Upgrades
Often times, upgrades to a parking lot or street are eventually needed. Maybe business is steadily increasing, meaning a street needs to be widened to decrease traffic, or a speed bump might be required to increase safety. Whatever the case may be, our team at Giant Development has provided exceptional services to clients for years. Our team is equipped to perform the following pavement upgrades and more:
Sidewalk installation
Speed bump installation
Road widening
Contact Us Now For Superior, Yet Affordable, Subdivision Paving & Milling Services!
If you are in need of any subdivision paving or milling job, from a simple parking lot construction to widening sections of a road, our team at Giant Development is fully prepared to meet and exceed your expectations. With over 14 years of experience in serving Raleigh and the surrounding areas, our diligent team members are experts in getting the job done effectively. Contact us today to get an estimate or to discuss our paving options. Call us at (919) 754-1226 or fill out our online contact form.

Oops! We could not locate your form.