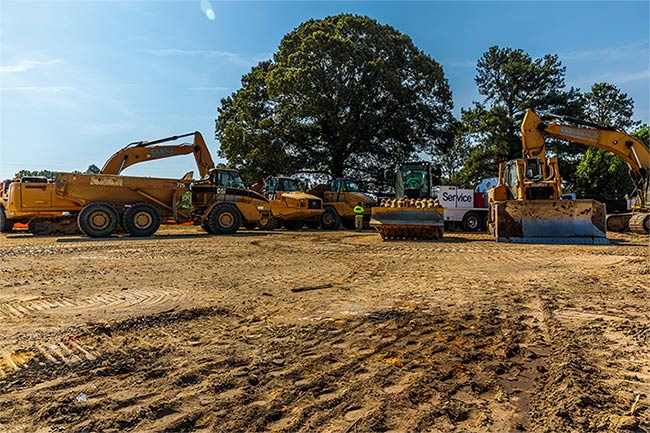 For over 15 years, our team at Giant Development has proudly offered our residential land development services to builders throughout Wake Forest. Our extensive background in total site development and project management has prepared us to handle any land preparation task presented to us as efficiently as possible. With high standards of integrity, diligence, and customer satisfaction at the forefront of all our actions, we seek to provide exceptional quality results that exceed all expectations.
Our Site Development Services in Wake Forest
At Giant Development, our ultimate goal is to supply all of the services you need to thoroughly prepare your residential and commercial sites for construction, which is why we offer all-inclusive, turnkey land development services. Our services include:
Residential and Commercial Demolition
Many sites require the removal of outdated or dilapidated buildings before construction can begin, which is why we offer our Wake Forest demolition services. Using eco-friendly and efficient methods, our team will dismantle and remove any pre-existing infrastructure from your site in the timeliest manner possible to keep your construction project on track. We will ultimately leave your site completely cleared and thoroughly prepped for construction.
Stormwater Management & Erosion Control
Our stormwater management and erosion control services can install the preventative measures required by the local and state agencies to minimize the impact on water quality that discharges to lakes, streams, and oceans. Using Best Management Practices (BMPs) and Stormwater Control Measures (SCMs), we can ensure that your project is in compliance with these requirements while preserving the water quality. Whether you need stream bank stabilization or sediment reclamation, our general contractors can help.
Forestry and Clearing
Our forestry and clearing services in Wake Forest involve the complete removal of trees, brush, roots, and other vegetation from your site, leaving you with a cleared site that is ready for construction. Using eco-friendly measures and state-of-the-art machinery, we can completely clear your site in no time. We also offer environmental advice and soil structure preservation to further promote eco-friendliness.
Curb, Stone, and Asphalt
Our curb, stone, and asphalt services have constructed many roads and pavement projects throughout Wake Forest, meaning we know what it takes to get the job done well. Whether you need street repair, curb installation, or subdivision pavement, we can successfully handle any pavement project of any size.
Site Grading and Utilities
Practically all residential and commercial sites require proper grading and utilities before construction can begin, which is why we offer our superior site grading and utilities services in Wake Forest. We offer site grading, earth-moving, excavating, water and sewage system construction, and everything else involved in the task of thoroughly preparing a site.
Looking for a General Contractor for Your Residential or Commercial Site in Wake Forest?
Our team at Giant Development would be thrilled to take care of all of your site development needs for you. Since 2004, our turnkey land preparation services have exceeded all expectations, and we can certainly do the same for you. Schedule a consultation with us today to learn more about all the numerous benefits of partnering with us. Call 919-754-1226 or complete our online contact form below.