Wake Forest Demolition Contractors
Before you break ground on your next land development project, you have to have a clean area on which to build. Removing any existing buildings or structure is among the first steps, but this requires more than just bulldozing the land. This is a task that requires an experienced demolition contractor and a crew who will not only work efficiently and ensure complete removal, they also must clear the infrastructure safely.
Comprehensive Demolition Services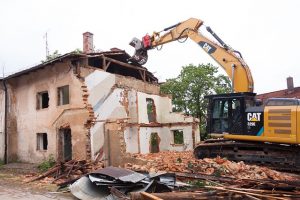 For over 15 years, Giant Development, Inc. has worked on land development projects across Wake Forest and the rest of the Triangle, and one of the many services we offer is comprehensive commercial and residential structure demolition. Working on both large and small projects gives us a wealth of experience from which to draw.
That experience, combined with our unwavering dedication to our clients, allows us to discuss the work parameters, deadline, and budget with confidence that we have the equipment, skills, and capability to exceed expectations and ensure the property is ready for the next step.
Our Wake Forest Demolition Services Include:
Thorough site analysis to check for asbestos and other hazardous materials to make sure we meet all safety regulations when handling and disposing of them.
Working with an experienced crew led by a knowledgeable, licensed contractor who can handle any type of demo project, large or small.
Using the right equipment to get the job done quickly and effectively, but also safely.
Precise, thorough demolition of any unneeded commercial, residential, and industrial buildings.
Cleaning up all debris, including waste disposal and recycling.
Leaving you with property free of unwanted structural materials that is ready for the next step in your Wake Forest site development plan.
Contact Giant Development for Demolition Contractors in Wake Forest
We've partnered with Wake Forest land developers since 2004, and proudly offer a wide variety of services to assist with your project. If you are looking for a dedicated demolition team, Giant Development can help. Call us today at 919-754-1226 or fill out our online form to get started!