Before you can begin development and construction on your Wake Forest property, the site has to be completely cleared. Sometimes, this requires demolition of any old structures or buildings, and in nearly all cases, land clearing has to be done. This involves removing trees, brush, and vegetation to so the land is smooth and able to be leveled.
With over a decade of experience in land clearing, Giant Development offers quality service you can rely on. Just as important, we work hard to ensure the task is done within budget and within schedule.
Wake Forest Tree and Brush Removal Services
We offer comprehensive site clearing services for your Wake Forest property, including:
Brush Removal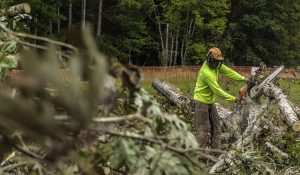 Undeveloped land has generally been allowed to grow wild and is overgrown with brush, thick, dense, grass, and straggling weeds. Even beyond the area where the building takes place, a perimeter around the area should also be cleared because overgrown land can spread wildfire and attract pests and vermin. Our team will clear the area to provide a clean, attractive area both at and around your building perimeter.
Tree Removal
In addition to brush, if there are trees located where you want to build, or you have dead trees that are in danger of falling, we'll take them down for you. Our equipment lets us cut down trees and remove stumps and roots quickly, while our mulching services allow us to make use of the left over debris.
Environmental Preservation During Wake Forest Land Clearing
Land clearing has to be done responsibly, requiring planning and responsible workmanship. Otherwise, the land could be damaged, leading to erosion and unstable ground that could compromise your build while causing needless damage to surrounding vegetation. That's why we have experienced experts on hand who provide:
Environmental Guidance
We can connect you with advice and guidance related to the health of the vegetation on your property.
Soil Structure Preservation
To prevent erosion and issues related to water runoff, we process trees and vegetation on site whenever possible.
Contact Giant Development for Wake Forest Land Clearing Services
With our professional land clearing services you will have the opportunity to move onto the next phase of your project quickly and safely. More importantly, you can feel confident that the work will be completed when we say it will and within budget! To learn more, contact us at 919-754-1226 or fill out our contact form below.