Managing stormwater and preventing erosion may not be visibly important, but they are a necessary aspect of your Wake Forest land development project. Taking these measures makes sure that your project :
Is in compliance with federal, state, and local regulation.
Minimizes risk to your property, including reducing street flooding.
Reduces the environmental impact your project has on the local water systems.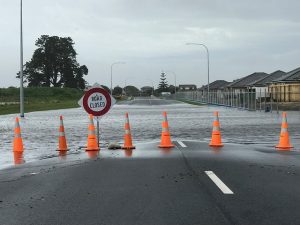 To help you with this phase of your site development project, the contractors at Giant Development will work with you to comply with Best Management Practices (BMPs) and Stormwater Control Measures (SCMs). We have the experience and knowledge necessary to help you reduce erosion, minimize loss of sediment, and control stormwater runoff. These services include:
Grading and drainage solutions

to manage how and where the flow of water runoff goes to reduce soil loss and erosion.

Engineering natural stormwater management methods, such as building sand filters, retention ponds, grass or rock beds, and detention wetlands

Constructing underground stormwater detention vaults that contain high volumes of water runoff and limit the flow of water going downstream.

Sediment reclamation and impact mitigation

Streambank stabilization and restoration

to reduce or prevent land erosion, often using eco-friendly solutions, like planting grasses and plant materials and using bioengineering to stabilize the soil.

Proprietary technology implementation

Non-compliance prevention and resolution so your project will pass inspection and align with regulation.
When you need to create and implement a plan for your land's stormwater management, you want to work with an experienced team who you can rely on. Otherwise, your Wake Forest site development project could be facing fines or budget and schedule setbacks due to having to redo work. From a long-range perspective, not managing stormwater and water runoff correctly can lead to damaging flooding either during construction or once the project is complete.
Contact Our General Contractors for Experienced Stormwater Management and Erosion Control
At Giant Development, Inc., we offer stormwater and erosion prevention solutions across Wake Forest, from small projects to challenging conditions. To learn more about what we do and how we can help you meet and exceed regulations while sticking with your budget, call us today at 919-754-1226 or fill out our contact form to get started.