Willow Springs Subdivision Paving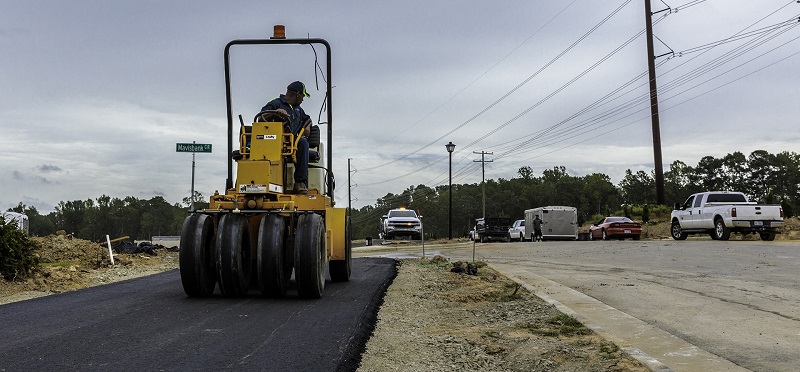 When you are planning a new subdivision in Willow Springs, you know you need clean, smooth roads and attractive landscaping to draw homeowners. Freshly paved, sealcoated roads and newly poured sidewalks set the newly constructed homes to their best advantage.  
At Giant Development, our subdivision paving services will help you achieve the best first impression of your new subdivision. Just as important, we strive to get the work completed on time and within budget without sacrificing quality work. Our paving and asphalt services for subdivisions include: 
Our Subdivision Paving Process
A well-paved road looks good, but more important, it has to withstand traffic, weather, and temperature fluctuations in order to hold up for years. We refuse to cut corners during our paving process, which is why the process begins with a fresh gravel base that creates the foundation of your road. We will then make sure it's graded properly to prevent water and wear problems.
After laying gravel, we put down fresh asphalt or concrete over it using heavy machinery to roll and compact it into a smooth, even surface. If we are pouring concrete, we make sure the surface is smooth and level before it sets.  
Sealcoating Your Willow Springs Subdivision
Constant exposure to traffic, sun, and temperature fluctuations causes asphalt to break down, leading to cracks and potholes. While they can be repaired when caught early, you can extend the life of your asphalt with sealcoating.
Sealcoating protects asphalt from the elements by preventing the oils from drying out and slowing down the degradation process. In addition to extending its life, the deep, rich black coating makes your roads look nicer, too.  
Asphalt Repaving and Repair
When cracks do form in the asphalt and concrete, they're usually easy and quick to repair. If they're left untreated, they will grow into potholes that damage property and are expensive to fix.  
To keep the roads and sidewalks in your subdivision both safe and attractive,  we offer several repair services for your roads. 
Asphalt Removal and Replacement
If the existing asphalt has been neglected for a long period and can't be fixed, we can remove the damaged area and replace it. We will also look for structural issues that may have caused the damage and fix it to prevent wear in the future. 
Surface Patching
For small cracks or potholes, we can lay down a patch for a much lower cost than removing and replacing the asphalt.  The process is simple: We clean the dirt and debris out of the void and lay a tack coat to improve adhesion. After that, we pack down fresh asphalt or a patching mix in a way to prevent air or water from getting in. The end result is a smoother, safer road.
Pavement Upgrades
As your subdivision grows, you will need to make safety or space upgrades to the roads in the subdivision.  We can add speed bumps to slow down cars and add or widen sidewalks and paths to improve safety. If traffic has greatly increased, we can even add turning lanes or widen the roads to decrease traffic delays. 
Contact Us for Subdivision Paving in Willow Springs
For asphalt paving you can rely on, contact Giant Development. Since 2004, we've provided Willow Springs and the surrounding area with turnkey site development services, including paving roads and laying sidewalks. Call us today at 919-754-1226 to learn more!