Supporting Our Healthcare Workers During COVID-19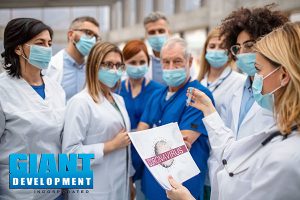 At Giant Development Inc. We are always there to help our community and we believe that we should contribute to the front line health staff who dedicate their time to saving lives in these difficult times. Therefore, we have distributed needed face masks for donation to hospitals and clinics battling the COVID-19 pandemic. 
---
Support of Note in the Pocket
Our team has made a donation of 75 backpacks to children in need. Note in Pocket provides clothing and shoes to impoverished children throughout Wake County.
---
Support of The YMCA of the Triangle
Our team has made donations to the YMCA of the Triangle to support their mission to help children achieve through YMCA Academic Support and Summer Day Camp Programs We received this thank you from Jennifer McGee for our support:
---
Support of the Taiwo Foundation
Our team has made donations to the Taiwo Foundation to support their mission to help children in need on the Caribbean Island of St. Vincent. We received this thank you from Debra Taiwo, president of the Foundation, for our support: "I am grateful for your generous donation in support of Taiwo Foundation in fighting Domestic Violence, Teenage Pregnancy and Child Abuse in the Caribbean Island of St. Vincent. Giant Development Inc. donations over the years are helping to make a difference in the lives of underprivileged young girls and boys in this Caribbean Island."
---
Support of Lady Lightning Softball Team
The Lady Lightning's manager Chris "Turtle" Wilson thanked us: "I am so appreciative for everything Giant Development INC has done for Lady Lightning. Their generous donations made it possible to jump-start our local softball team. With the help of Giant Development, Lady Lightning was able to hire the best coaches possible and buy all the best equipment. Their CEO Tony Crabtree went above what was asked of him, I couldn't imagine having a better sponsor for Lady Lightning. Thank you Giant Development!"
---
Charity Work for St. Michael the Archangel Church
Our team cleared land to add a proper paved road next to the second rectory and conference center of the church's campus as a part of our charity work. Monsignor Douglas P. Peed said: "The driveway work that you did last summer for our 2nd rectory has been a Godsend! And the road next to the Conference Center has not only made our ball fields more accessible, especially for our seniors, but you've cleaned up a tremendous eyesore as well. Rather than speechless, I am simply more grateful than I can possibly express! I really appreciate all you are doing!"
---
Getting the Job Done Right for a Goldsboro Family
In November of 2017, Goldsboro grandmother Lisa Mooring hired a local concrete business owner, to convert her gravel driveway to a concrete slab to help her grandson Arian get around more easily. Arian has Duchenne Muscular Dystrophy and has difficulty walking and riding his adaptive bicycle on unstable gravel and is at a higher risk of injury. Due to the high cost of the work, Lisa applied for a grant through local MD charity, 4 Jake's Sake who paid the contractor $2,000 to do the work, who said it would be done in a few days. One year later, Lisa still had the same gravel driveway. The contractor took the money, then never showed up to do the work.
Stepping in to Lend a Hand
Lisa, and several other people who had hired the same small business owner and had a similar story, reached out to ABC11 about what had happened. In the mean time, the negligent contractor was convicted in Nash County for failing to do work on a different job he was paid for. We heard Lisa's story and knew we could help. We believe that we are meant to make a difference in our community and help our neighbors so we got a team together and headed to Goldsboro with our equipment and materials. The Giant Development crew was able to provide everything free of charge and got the work done in just one day!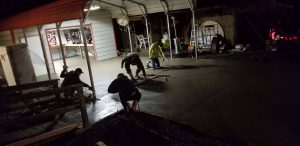 Now, Arian can walk across the driveway safely, without danger of falling, and he can even ride his bike! We were glad to meet this wonderful family and are happy we could lend our services to make a difference! To meet Lisa and Arian and hear their story, watch the ABC11 story here.
---
Looking for a General Contractor for Your Residential or Commercial Site?
Our team at Giant Development would love to partner with you in fulfilling all of your site development needs. We have taken care of the complete preparation of numerous sites over the span of 17 years, and we would be thrilled to do the same for you. Schedule a consultation with us today to discover why our services are the best option for you. Call 919-754-1226 or complete our online contact form below.
Progress of work done St. Michael the Archangel Church