You may have seen the Giant Development team working very hard to improve the road conditions in Raleigh and other parts of the Triangle. One of the main jobs that we love doing is paving roads. We pave the roads through a process called pavement milling.
What is Pavement Milling?
Pavement milling is also known by other names such as cold milling, cold planing, profiling, or even asphalt milling. Though many names, it has common goal. We use the milling machine to remove road surface so that we can create a smooth and safe area for you to drive on. Our milling machines can do simple projects or perform complex one such as repairing roads that have incurred major damage to the asphalt.
The Equipment We Use For Pavement Milling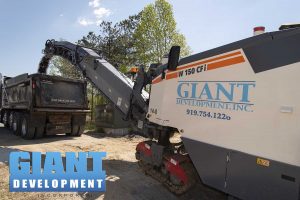 We use some pretty impressive equipment to get the job done right. The milling machine that we use at Giant Development is the Wirtgen Compact Cold Milling Machine. Don't let the name fool you, The Wirtgen Cold Milling Machine is a beast. It is able to perform our most major projects in even the smallest and restricted spaces given to us. The surface of the pavement is grinded and then removed by a rotating drum. After the pavement is cut, it is transferred to a conveyor belt that picks up any loose asphalt that may have been lost during the milling. To keep the miller running smoothly and minimize the amount of dust that caused in the process, water is continuously being added for reduction of friction in the milling machine.
Other Uses of Milling Machines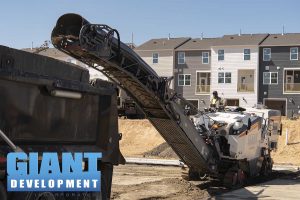 We also use the milling machines to create rumble strips along the North Carolina roadways. These lines is an important safety feature that alerts drivers if they have lost focus by causing vibrations and rumbling sounds through the vehicle's wheels.
No matter how big or small the job may be, Giant Development will get the job done right. We take pride in using the latest technologies and equipment such as the Wirtgen Compact Cold Milling Machine.
If you see us on the road, please remember to slow down and drive safe in the work zones. Feel free to wave and say hi to our Giant Development team.
---
Contact Us When You Need a Pavement Milling Contractor
Do you have questions about our milling machines or other equipment that we use, please do not hesitate to contact us. Our milling services are available not only in Raleigh, but also in Apex, Chapel Hill, Durham, Holly Springs, Wake Forest, or Willow Springs.
Call 919-754-1226 or complete our online form below to get started!