Preparing a site for new construction often requires the use of demolition to remove preexisting infrastructure. At Giant Development, our professionals are experts in the complete dismantling and removal of any building, whether it be outdated, faulty, or simply in need of revitalization.
Why Choose Giant Development as Your Demolition Contractor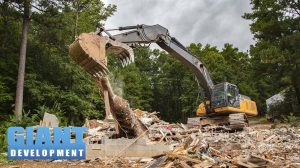 With over 16 years of experience, our team provides superior demolition services, particularly on residential and commercial structures in the Raleigh area. We believe that in every project, our customers should receive the highest quality services in the most timely and effective manner possible, all for a reasonable price adjusted specifically to fit their needs.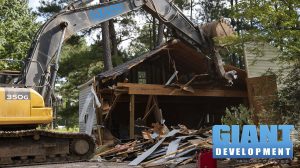 Our team understands that time is money, so we do whatever it takes to ensure that all projects remain on schedule, allowing our clients to move on to the next phase of their plans with ease. Our mission is not to just simply get the job done, but to go above and beyond what is expected. With work standards of diligence and integrity, we are fully equipped and prepared to accomplish any size demolition project in the utmost quick, effective, and eco-friendly way. Once our work is done, we leave our client's site clean and prepped for next phase of construction.
Demolition Services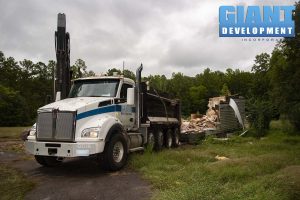 When you work with Giant Development, you'll be working with a team who provides you with the following:
Expert, licensed demolition contractors who will tailor our services to specifically fit their needs.
Safe, effective, high-quality equipment.
Quick, precise demolition of independent structures or sections of an existing structure.
Complete, speedy, eco-friendly disposal and recycling services.
A clean site ready for new construction.
We check for and remove asbestos to make sure it's up to safety codes before demolishing a site, and properly dispose it.
Contact Us When You Need a Demolition Contractor
When you need structures removed quickly and efficiently from your work site, reach out to Giant Development for demolition services in Raleigh, Apex, Chapel Hill, Durham, Holly Springs, Wake Forest, or Willow Springs. To get a quote or schedule a consultation, call us at 919-754-1226 or fill out our contact form.