Having a trusted site development and project management contractor on your side during your next residential or commercial construction project is essential to meeting your goals, including your deadline and budget. The building itself is only a piece of your development project. Having an experienced development contractor to partner with you to ensure the land is ready to build on and the infrastructure is planned and built according to regulations will help make sure your project is a success!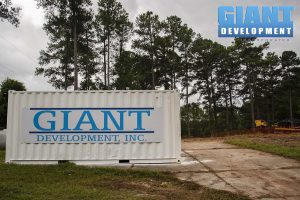 Giant Development, Inc is a trusted residential and commercial site development contractor with a reputation for excellence in Raleigh and throughout the Triangle. Since 2003, residential property developers have relied on us for comprehensive site development services, knowing we will exceed their expectations of quality work while meeting scheduling and budget parameters. When you partner with us, you can feel confident that we are knowledgeable of compliance laws and regulations, maintain a safe worksite, and are dedicated to working with you from the moment we break ground until it's time to put the finishing touches on the project.
Giant Development's services center around site development and include the following: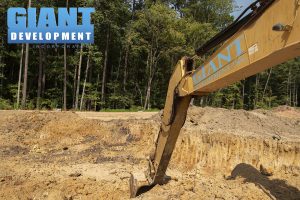 Tree, Land, and Dirt Removal
We offer excavation services for all aspects of site preparation. Utilizing state-of-the-art equipment and techniques, our safe, knowledgeable staff members provide professional and timely excavation services.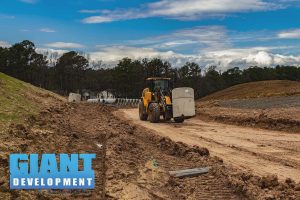 Storm Clean-up and Install Storm Drains
We understand the complexities of the regulatory standards for stormwater BMPs and retention basins. We strive to adapt our services to stay up-to-date with the amendments made to those standards. Our ultimate goal is to help our clients understand the regulations and demonstrate to them how we are able to provide them with the most comprehensive, stormwater management program. We'll evaluate each BMP structure and develop a regulatory-centered maintenance plan to most efficiently manage it.
Demo of Buildings and Other Structures
Giant Development has the ability to perform a variety of services for the removal of residential and commercial structures with a proven track record of meeting challenging deadlines. Our goal on every project is to provide the highest quality of service, while maintaining safety and providing the client the ability to quickly return their property back to productive use. We make every attempt to ensure that your project is done to your specifications, within your budget and meets your timeline.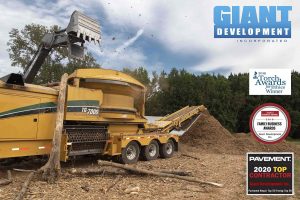 Mulching and Logging
We have developed protocols for disposing of timber in a cost-effective and useful manner. We have successfully restored even the most devastated properties. Our forestry mulching equipment quickly turns massive piles of timber into valuable mulch, halting erosion, restoring usability and equity and leaving behind a manicured appearance. We mulch stumps and remove damaged and dead trees without harming remaining timber and native vegetation. In addition, we recover and process firewood.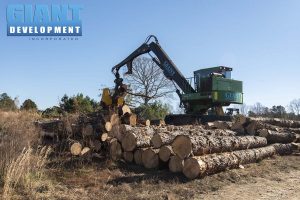 Tree, Brush, & Debris Removal
For a site that is free of unsightly brush, overgrowth, and trees, we offer comprehensive land clearing that removes vegetation and debris efficiently while ensuring the land is stable and preserved.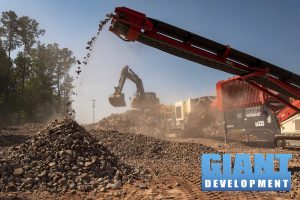 Crushing Rock, Stone, Concrete, & Asphalt
We have a state-of-the-art rock crushing machine that can easily tackle large quantities of rock. Our professional rock crushing services are convenient, environmentally-friendly, and cost-effective.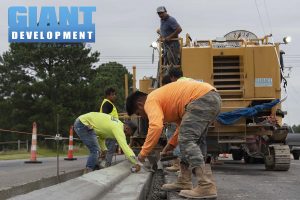 Road, Curb, Gutter, and Sidewalk Design
Let Giant Development handle your next road construction project with experience and expertise. We specialize in residential and commercial work including road construction, asphalt paving, parking lots, streetscaping and more.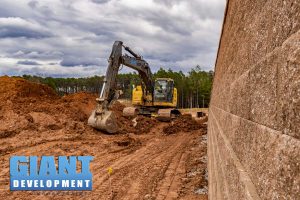 Sediment Pond Design and Construction; Pond Planting and Conversion
Soil erosion is a significant environmental issue that concerns many developers. We are committed to being environmentally responsible and we offer traditional methods as well as innovative solutions to erosion and drainage problems.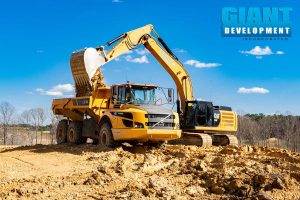 Grading, Hauling, and Pad Building
Utilizing state of the art equipment and experienced operators, our grading services handle a full range of earthmoving projects to prepare residential and commercial development sites for the construction of buildings, roads, parking lots and many other uses.
Contact Us for Site Development
If you are planning to begin a real estate project in Raleigh, Apex, Chapel Hill, Durham, Holly Springs, Wake Forest, or Willow Springs, whether it's residential or commercial property, reach out to Giant Development. Our site preparation services will help to ensure your project is completed efficiently and within budget without sacrificing quality work. Call us today at (919)754-1226 or just fill out our convenient contact form below to get started!