Land Clearing
Land clearing involves the removal of trees, roots, and other vegetation from the development site.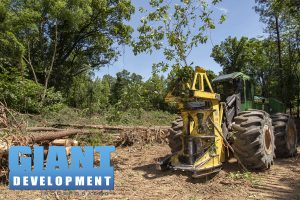 Giant Development offers comprehensive land clearing services for your residential and commercial development projects. Some of these land clearing services include:
Brush Removal
Underbrush could prove to be unsafe to your residential or commercial property as it can spread wildfires. We remove all brush to keep pests and fire hazards away from your property.  Brush removal will help limit the risk of wild fires and keep your property safe.  It is important that loggers accurately deal with the brush in order to improve the overall health of the cleared land.
Tree Removal
Whether you have dead or diseased trees or just want to clear the land,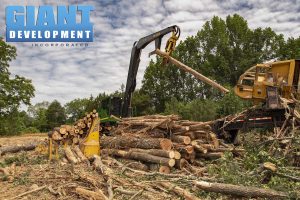 we can help.  It is important to remove trees if they pose a threat of falling because of damage or diseases they have received.  If trees aren't removed when they need to be then they can cause damage to property or other trees in the area.
Environmental Advice
We provide guidance about your forest health and help manage your property with regard to insects and arboreal diseases.  It is important to keep the trees and environment on your property as healthy as possible in order to have a healthy ecosystem.
Soil Structure Preservation
Whenever possible, we process trees and vegetation where they stand, which helps to preserve soil structure, prevent erosion, and more.  Our team can help analyze the health of your soil structure and make recommendations for how this can be improved.
Our land clearing services are comprehensive and completely clear your spaces of growth and other debris. We employ highly-trained experts that can help provide guidance in your land-clearing project.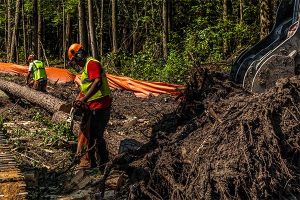 Our forestry mulching equipment quickly turns massive piles of timber into valuable mulch, halting erosion, restoring usability and equity, and leaving behind a manicured appearance. We mulch stumps and remove damaged and dead trees without harming remaining timber and native vegetation. Giant Development utilizes a Horizontal Tub Grinder to mulch and grind all the stumps and remaining debris.
Our trained team of land clearing professionals utilize the latest land clearing equipment to provide our clients with efficient and thorough services.  Along with high quality equipment, our team also uses the latest land clearing techniques in order to clear the land in an efficient and safe method.
At Giant Development, we offer North Carolina land clearing services that increase your property's value and its marketability. Take advantage of our turnkey site development services today. To learn more, please contact us.
Logging Services and Mulching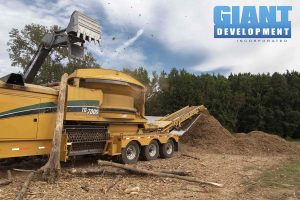 We have developed protocols for disposing of timber in a cost-effective and useful manner.
We have successfully restored even the most devastated properties.
Timber is removed from the land and carried off to an applicable mill or timber yard for recycling or merchantable timbers for the home building industry.  It is important to develop a recycling and disposable protocol in order to benefit the environment as well as the Raleigh area.
In addition to mulching, we recover and process firewood.
---
Contact Us When You Need a Forestry/Land Clearing Contractor
When you need trees or bushes removed quickly and efficiently from your work site, reach out to Giant Development for forestry and land clearing services in Raleigh, Apex, Chapel Hill, Durham, Holly Springs, Wake Forest, Graham, Clayton, Garner or Willow Springs. To get a quote or schedule a consultation, call us at 919-754-1226 or fill out our contact form below.