"Where your word and a handshake means something." – Tony Crabtree, CEO
Our Core Values
Integrity – To maintain the highest levels of professionalism, integrity, honesty, and fairness in our relationships with our suppliers, subcontractors, and customers.
Diversity – To foster a work environment that encourages new ideas, new innovations, equality, versatility, and growth.
High Quality – To deliver quality, timely and exceed customers expectations.
Faith – To serve with character and purpose that brings honor to God.
Safety – To commit to the health and safety of our employees, subcontractors, customers, and community.
Customer Satisfaction – To achieve by attentiveness to areas including timeliness, attention to detail, and service-minded attitudes.
Our Mission Statement
At Giant Development, we strive to serve, understand, and satisfy our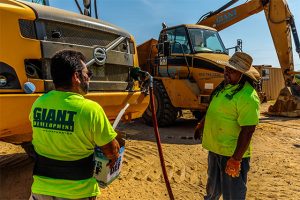 customers' every need to put our customers' minds at ease. We promise to perform for our customers' at the highest level of quality contracting services at a fair and competitive price. Our pledge is to establish lasting relationships with our customers by exceeding their expectations and gaining their trust through outstanding performances from each member of our team.
At Giant Development, we pride ourselves on attending to every single detail to ensure the job is executed perfectly, the first time.
Looking for a General Contractor for Your Residential or Commercial Site?
Our team at Giant Development would love to partner with you in fulfilling all of your site development needs. We have taken care of the complete preparation of numerous sites over the span of 18 years, and we would be thrilled to do the same for you. Schedule a consultation with us today to discover why our services are the best option for you.
Call 919-754-1226 or complete our online contact form below.