The simple process of adding a nice mulching job can dramatically improve the overall appearance of building, community or yard, making the area seem more put together, maintained, and professional. Aside from enhancing the visual aesthetics of your property, mulch in itself also provides a variety of benefits, such as improving the soil conditions and reducing weed growth.
Our team at Giant Development not only performs exceptional mulching jobs, but also creates the mulch itself. With our eco-friendly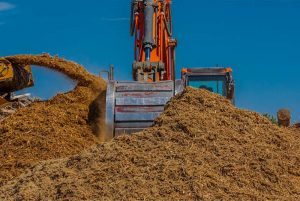 mulching services, we are capable of taking an unkept piece of land with overgrown trees and brush and easily transforming it into a mulched area with a now manicured appearance. We can also complete the simple task of enhancing your property's appearance by providing and arranging mulch for you.
After our turnkey land clearing services which thoroughly removes all brush and trees, you are left with huge piles of timber. While some companies either dispose of or burn these valuable materials, our team takes the more eco-friendly approach. Rather than simply destroying trees and getting rid of them, we transform the removed trees into mulch. This offers a variety of eco-friendly benefits, such as the following:
Prevents erosion
Restores usability and equity
Provides natural nutrients to ground and soil
Prevents all harm done to environment by burning trees
Increases soil moisture and productivity
Reduces weed growth
The trees are transformed into mulch using our durable, innovative forestry mulching equipment. All stumps, logs, and remaining debris are put into a Horizontal Tub Grinder on site where they are quickly and efficiently transformed into mulch. All actions are meticulously performed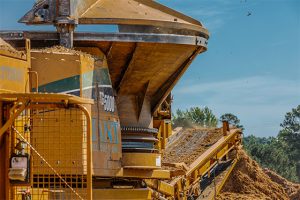 without harming remaining timber or native vegetation. Once the trees have been mulched, our services include distributing the mulch around the entire property or arranging it in select spots at your request. Our team is also dedicated to restoring devastated areas affected by adverse weather conditions, using the same processes. Ultimately, we aim to restore the land rather than harm it in the most cost-effective, efficient way possible.
What Happens to the Logs That Can't Be Mulched?
Unfortunately, the entirety of a damaged or dead tree cannot be mulched, as it would provide no benefits to the ground or environment. However,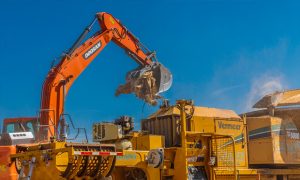 preserving the environment and minimizing harm is at the forefront of our company's actions. So, we have developed protocols for timber disposal that benefit the environment. Timber that cannot be mulched are transported to a mill or timber yard for recycling. Or, unused timber is contributed to the home building industry. Our company is also involved in recovering and processing firewood.
---
Contact Us When You Need Mulch to Enhance Your Yard or Land Cleared in an Eco-Friendly Manner
If you are in need of mulch to enhance your yard or would like to thoroughly clear land while still preserving the environment, our affordable mulching services can help! Our professional team members have been in the mulching industry for years and are well equipped to handle any job you may have. Contact us today to receive an estimate or discuss how our mulching services can help you. Our mulching services are available in Raleigh, Apex, Chapel Hill, Durham, Holly Springs, Wake Forest, or Willow Springs Call us at (919) 754-1226 or fill out our online contact form..