Having streets that are in good condition is not only important to keeping Apex looking attractive and well-kept, it also keeps our residents safe and our property free of damage. If potholes, cracks, and worn spots begin to form on the roads, taking the initiative to have the areas repaired as soon as possible often stops a small problem from becoming a serious issue. 
Giant Development provides the reliable, long-lasting street repairs and asphalt patching necessary to keep Apex roads safe and smooth for our residents, commuters, and passers-through. 
Why Choose Street Repair Services in Apex?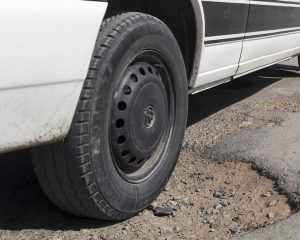 Potholes, large cracks, and buckled sections of asphalt are an eyesore that make even the nicest neighborhood or commercial area look rundown. In addition to harming property value, these problems with our roads can also cause damage to a vehicle or cause a pedestrian to get hurt, and the city of Apex can be held liable for repair and medical bills. For example, if a wheel is damaged by hitting a pothole or a pedestrian falls and is injured due to damaged asphalt, those costs can put a major dent in the city's budget.
Additionally, doing street repairs and patching asphalt are a way to save on long-term maintenance costs. If left ignored, a pothole can spread or layers of asphalt can degrade until doing a patch is simply not possible. When this happens, the only option is pavement milling and replacing the road surface altogether.  
Street Repair and Patching Services in Apex
Giant Development, Inc. works with municipalities, land developers, and city management teams to provide quality street repair services that our clients can rely on. We have both the equipment and the team experience needed to ensure that we can fix the damage quickly while offering a competitive quote. 
Most of the time, if the damage is small, like a small pothole or shallow cracks, we can do a simple repair in a short period of time. To do this, we clean the area of any debris and packed down dirt and apply a tack coat that makes the new asphalt adhere and blend into the undamaged pavement. Then, we fill in the space with asphalt or a patching compound, pressing it deep into the space to make sure there's no air or moisture in any crevices. Once that's complete, we level out the patch to make a firm seal. 
In addition to repairs, we can provide sealcoating that prevents water, oil, and temperature changes from damaging your concrete and keeping your asphalt looking great for a longer period of time. 
Contact Giant Development for Street Repairs in Apex
Giant Development offers all type of asphalt and curb installation services in Apex and specialize in providing these services to both land development companies and city management teams. From repairs and replacement to laying down completely new roads, sidewalks, and curbs, we provide quality work you can depend on. Contact us today at 919-754-1226 or fill out our convenient online contact form to learn more about our services.